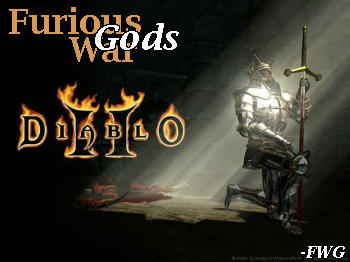 About FWG
Diablo II FWG Clan is a Lord Of Destruction Clan, we play on USEast Realm Closed B.Net. We stand for "The Furious War Gods". We are a clan that does not require you to create a new account. We are a strong clan with honest people to help create Mules, to help you Level up and to pass quests. We are always taking in new members and even more are welcome.
Thanks,~Tim0713~
What's New
***ALL MEMBERS WE NOW HAVE A MEMBERS ONLY SECTION OF OUR SITE. TO GET IN YOU MUST REGISTER FOR A LOGIN NAME. IF YOU DO NOT LOGIN EVERY 2 DAYS, YOU SHALL BE REMOVED FROM FWG. IN THE MEMBERS ONLY SECTION, I WILL START POSTING MEETING DATES. IF YOU MISS A MEETING, YOU MUST EMAIL ME.
We have many new members now, we need to be posting in the Message Board, mIZE spent a lot of time making it, but yet you guys are not posting... Also we are looking for more Division Heads, as well as new Divisions. Post messages in the forums if you have any ideas.

~Tim0713~
Key Information
Members, We now have SCAVENGER HUNTS scheduled to random dates. For more details, goto The tournaments section. Any Questions, post it in the forums....
~Tim0713~

We have new divisions with leaders splitting up all members. With this type of organization we are trying may help you a lot. This is so that you will most of the time have leaders to help you.

DIVISIONS

ALL MEMBERS, UNLESS YOU ARE A LEADER OF A DIVISION, MUST SIGN UP FOR A DIVISION HERE. YOU WILL BE IN THIS DIVISION FOR 1 MONTH. AFTER 1 MONTH, YOU WILL BE ABLE TO CHOOSE ANOTHER DIVISION TO JOIN. THE DIVISIONS ARE POSTED IN OUR MEMBERS ONLY SECTION.